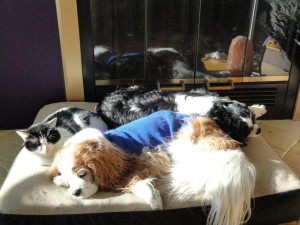 I awaken in the night and hear it. Silence. I wait for more. It comes. I smile.
I hear the dogs breathing softly in the night. Now, in the longest, darkest time of the year, I awaken in the still, silent night and hear only my dogs' relaxed breathing. I smile. It's comforting. Peaceful.
My dogs snore of home.
I can tell them by their breathing. Murphy, my delicate, mild-mannered oh-so-polite aging girl, snores like the proverbial lumber jack. Only, size for size, decibels louder. First time I heard it, she had just come home to live with me, and I leaped out of bed, sure we were being invaded. Over 13 years later, each time a snort startles me, I know the invasion was successful, and smile.
Sometimes, most times, she breathes with soft, gentle sighs. Other times I rest a hand lightly on her back, to make sure she's still there. She'll rouse and snuggle up, and we'll go back to sleep in the cold dark night, back to back, butt to butt.
I used to wonder, way back when, if I could ever love this puppy who was not my beloved, long-lost English Cocker, if we could ever fit. We were strangers, but it didn't take long for love to settle in my heart. Her snorts, her relaxed sleep, remind me.
Now, as I hear her soft breathing, I know that love, home, settled deep in hers. In theirs. Because all my animals sleep well, comforted in their safety. Knowing we are family. We are together. They do not have to be on guard. They can let down. They can breathe softly in the night.
Love created space to sleep.
Alki, my raucous ten-year-old boy, is rambunctious by day, soft murmuring dreamer by night. His breath whispers of deep dreams, contentment, secure and relaxed and deeply resting in his secured spot in bed. Storing up for daytime mischief.
I smile in the night.
Sure, I poke Murphy sometimes when her snoring shakes me out of mine. She'll start to grumble but is asleep at the next twitch. Alki's soft breathy lullaby ripples mildly.
I never hear Grace the Cat breathing. No snuffles from her cat perch above my desk, no soft snores from her Snuggly Safed bed at night. She's there. Just can't hear her. She'll prowl the night, inspect us, snuggle.
Suspended in darkness, I am awake, happy, content. They are here, content with me. Species mingled, personalities meshed, family.
In the heart of a 21st-century city the only sound in the deep night is a 21st-century family, sleeping the human-animal bond.
Soft breathing, counterpoint. Pause. Rhythmic.
Life resting before dawn.
How did it come to this? How did so many years go by before contentment settled so easily on me?
But it did. We're family. Here. Now. Content. Woman, cat, dogs.
Murphy snuggles closer. Alki is still, soft swoosh rising. Grace the Cat burrows deep.
I hear the dogs softly breathing.
Yes, they snore of home. Of love.
I smile.
All is well.
I am home. We are home.
We are family.
© 2011 Robyn M Fritz