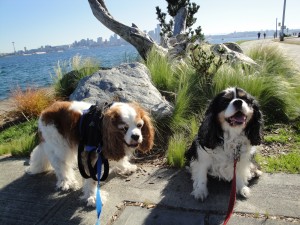 When you live the human-animal bond, you celebrate birthdays with your multi-species family.
Even when the birthday in question is yours and you're getting older (it happens yearly).
Okay, we were celebrating my birthday this time. But it's in the dead of winter, after Christmas, before spring. In Seattle. Pretty much the weather sucks.
Does Grace the Cat care? Of course, she stays home.
Do the dogs care? Of course not. They're Cavalier King Charles Spaniels, born to flirt and goof off. They have jackets and a lazy human who doesn't like to be cold. They can routinely trump that.
So why not take the dogs for a walk in the sun on my birthday?
There are hazards. It's Seattle. In winter. At the beach.
You expect wind at the beach. But on a sunny day you expect sun. You forget that in winter the sun only manages to get halfway up the sky, and then only stays there for 20 minutes (15 on the weekends, it's apparently celestial labor law). And the sun, being a wienie, races through the winter days here as fast as possible, so it can hang out somewhere warm, like, well, somewhere else way far south of us.
Birthdays may warm you up, but the air, it's colder than all get out. Why? Because we're way far north in Seattle, almost to Canada, which is right at the North Pole. Especially in winter. Because when you're at the beach in Seattle, you're right in the path of that cold north wind, nothing stops it, and why is that? Because Canada ducks as it flies over, that's why.
So, anyway, at the beach on my birthday. With the dogs. Walking the sun walk. The dogs are thrilled because the sun shining means they can see their prey better, which is all manner of completely uninteresting inedibles that smell as bad as they look and the dogs can't sniff fast enough.
Really. Multi-species families are cute. And gross.
But it's sunny. Except I forgot about that halfway up in the sky bit. It may be sunny, but the sun isn't up. It doesn't clear the West Seattle hill in the winter. We forgot that. So we're in the shade. On a sunny day. Freezing our city slickerness right off.
The dogs don't care. They're on an adventure. They're too low and too small to be real windbreaks. And, now I notice, they are standing behind me.
Survival of the fittest. They win.
"Hey," I say to them. "Want cookies?"
Of course they do. Walk is over. Birthday cookies coming up.
Next year I'm celebrating my birthday in the summer. Every once in awhile we have one of those in Seattle.
I hope before, well, next winter.
Happy birthday me!
© 2011 Robyn M Fritz