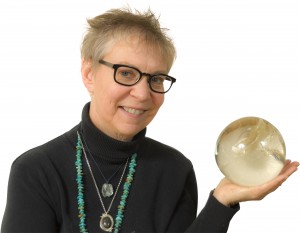 When people come to meet me and Fallon, they want to know what he is. Fair enough.
Fallon is a Citrine Lemurian Quartz. He's ancient: I remember carving him out of the crystal caves at his direction thousands of years ago. We worked together for lifetimes, got separated, and were finally reunited in 2009.
Woo-wooey enough for you?
Wait until you actually experience him.
Fallon is a rare planetary energy, a dimensional energy. That means he is of the earth and can connect to different earth dimensions as well as those in time and space. There are lots of crystals out there, but none like Fallon.
That is why we are out there in the world.
He is a healer and truth bringer. I am the bridge who can help you explore the insights you receive from him as you work with us—because when you experience him, hands-on in a session, or in a group meditation, you tap into the power of 'other' to transform your life, to find and claim your power.
In our sessions I've seen newbies with crystals go astral traveling. Parents resolve issues with their children. The grieving speak with deceased family, friends, and animals, and begin to heal from their loss. Smart, accomplished business people discover new direction and inspiration for their work. People ready for transformation discover their strongest intuitive ability and build comfortable 'shields' or 'skins' that empower them. Curious, open individuals meet guides, deities, messengers, and, yes, dragons.
Fallon is alive, as all life is alive. He's conscious, sentient, equal. He's my partner, not my tool. He's not a being in a crystal: he IS the crystal. He's been in that body for eons, while we've been in ours for, well, a few short years.
He has a lot to share with all of us. All you have to do is come.
What Happens in an Intuitive Consultation
In an intuitive consultation with me and Fallon you work with a rare human-crystal partnership.
A truth bringer and healer, Fallon offers compassionate insight as a crystalline being of ancient Lemuria. When you put your hands on Fallon he taps into your own healing quality, and you receive your own visions and information.
I am a bridge between you and Fallon and the insights for you that day. I can tell you what I see, hear, feel, and know from that connection, through clairvoyance, clairaudience, clairsentience, and claircognizance. Information can be practical, mystical, inspiring, and fun, but it's always yours in that moment.
People explore their mysteries with us as we help them:
Tap individual intuitive abilities to access personal truth
Achieve balance and healing
Gain clarity on personal, home, and business issues
Talk with animals, homes, businesses, and land
Meet guides, deities, and messengers, including deceased family and animals
Clear homes or businesses with our unique Space CooperatingSM service
Explore alchemical energy
We offer a unique opportunity to tap your personal truth and claim your power. Come see us!
 (c) 2012 Robyn M Fritz