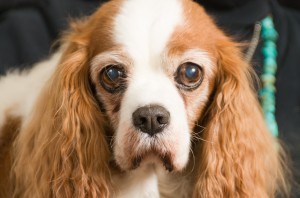 Landmark days—those days that hold special meaning in our lives—are times to stop and celebrate and remember. They are the days that build families and communities—in multi-species families, they include adoption days, birthdays, breakthroughs, and deaths.
I remember the day I figured out what the book about my life with Murphy was all about. I was so excited I turned on Mickey Hart's CD, Planet Drum, yelling, "Murphy, I figured it out!"
She came charging into the room and danced with me. As I danced, she leaped up on her hind legs and punched the air, then went down on her front legs to flip her back legs up. We danced together, a Cavalier King Charles Spaniel break-dancing, and a clumsy human almost keeping rhythm with a rowdy drummer.
That was a landmark day with Murphy. I will remember another landmark day now: Thursday, March 8, 2012, the day I lost her.
I will also remember it as the day nature itself reached out to honor her, and comfort me.
I will remember the moon. The eagles. And the dragons.
We were up before dawn that day. Murphy needed to go out, so I carried her down the stairs and out onto the front lawn—into the light of the full moon as it started to set across Puget Sound. We stood in the moonlight as it arced over us, a shining river of light racing the water. I was awed and delighted, and as I glanced at Murphy, our eyes met. She faced the moon with me as I raised my arms wide and thanked it for its beauty.
When we came inside I hurried to our sliding doors, raised the blinds, and welcomed the moon inside. Once again I spread my arms wide and smiled at it as I felt its warmth sweep through me and flood our home. I felt the moon had come to greet us and fill us up with love.
About 7 a.m. I made a quick trip to the grocery store. As I pulled up to a Stop sign at the beach two bald eagles soared out of a tree and glided over the water. I watched as the adult eagle gently dipped its talons into Puget Sound and came up with a fish, while the immature following it swooped around it. I had to smile: the parent was teaching its child how to fish. While we see eagles and their offspring a lot at the beach, I had never seen one catch a fish before, and it was comforting. Life goes on.
We were into Day 3 of Murphy's sudden lethargy. She had abruptly vomited her breakfast on Tuesday morning and had eaten only a few bites since. We'd been to the vet Tuesday afternoon for subcutaneous fluids, and gone back on Wednesday for more, and to learn how to administer them. Her vet and I agreed at that point that she was not just ill, like her recent bronchial infection: it was clear the cancer had spread to her gut. He thought we could support her through the weekend with fluids administered at home. My hope was that she would die quietly in the next few days, and spare me the choice of euthanasia.
I think now that our vet was being optimistic. I talked to him briefly early Thursday, that last afternoon. Murphy was not better, and we agreed on seeing where the next 24-48 hours would take us.
All three of us knew. We just didn't know when.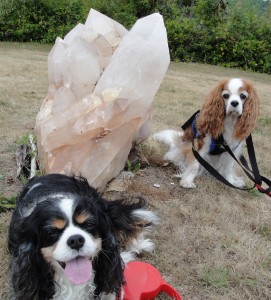 As the day progressed I realized that bald eagles were everywhere. In the few minutes I was in the back of our home their shadows swept the hillside. As I sat with Murphy and attended to my other dog, Alki, and Grace the Cat, they'd fly by, low enough for me to see their backs from our second story home. They glided by, and circled the trees at the light house across the street.
At one point I said to Murphy, "The eagles are really busy today."
Late in the afternoon I leaned down to her and gently caressed her face. Our eyes met, hers dull with fatigue. I bit back tears as I said, "Murphy, I'm taking Alki for a quick walk. If you need to go while I'm not here, you can. It's all right. If that's what you need, it's all right."
And it was all right. Murphy had dragons with her.
In our strange and weirdly wonderful world, there are beings we don't know much about. Like dragons—not the evil creatures of lore but magnificent multi-dimensional beings who support the planet and all who live here. There are also jobs we could never imagine, and beings we might think unlikely to do them—one of the most unusual jobs is being an ambassador to the dragon kingdom. It is a role Murphy has filled in multiple lifetimes, and certainly in this one since dragons came back into the world in 2005.
Yes, my beloved, aging Cavalier King Charles Spaniel, Murphy, is the ambassador to the dragon kingdom.
I admit, I don't quite understand what that is. What I did know is that as a dog she didn't have to worry about human preconceptions, and could simply act as the go-between for the dragons, working at the subconscious dimensional level to lay the groundwork for a new cooperative era between the dragons and, well, everything else on the planet.
I know, awesome, isn't it? When Murphy first told me about the dragons, I was shocked. "There are jobs like that?" I asked her, awed. Apparently. Clearly other beings knew about her, because a number had come visiting in recent years, anxious to meet Murphy because she was the gateway to the dragons.
They told me the idea was if they got in good with Murphy they'd get in good with the dragons. Except that Murphy had a cantankerous, overprotective mom/friend figure who kicked a lot of them out. But all that's another story.
This one is about how dragons honor their friends, especially their ambassadors.
The dragons are always with our family, and they were particularly close in the weeks leading up to Murphy's death. They were working with the new energy system that has come to our family, and with their own, to support Murphy in her dying, to keep her as healthy and vigorous as possible as death approached, and to make the transition as seamless as possible. They were there for us. In the last few weeks, the queen, my friend, had been wrapped around me, protecting my grieving heart, helping me protect Murphy's. And the king, our friend, Murphy's special friend, had been kneeling in front of her, opening space for the transition.
The dragons were pressing close those last few days. Closer in the last few hours. I could feel them, and the amazing intuitive I work with, Debrae FireHawk, confirmed that they were there.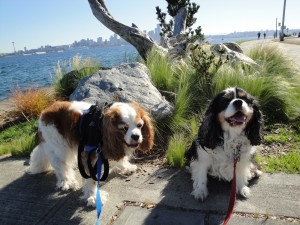 Late in the afternoon I left Murphy alone for 15 minutes to take Alki on a quick walk.
As we were heading home, another bald eagle flew towards us. At last I realized that I had seen more eagles that day than ever before. And more—I realized that they had been flying strategically all day, so I couldn't fail to miss them.
That day, we were surrounded by eagles.
As that thought hit me, I stopped our walk and looked up at the adult bald eagle who was hovering feet above my head, ignoring a persistent gull.
"Have the eagles come for Murphy?" I asked, both awed and fearful.
"No," the eagle said. "We fly to honor. The dragons are here for Murphy."
I thanked the eagle for its service and hurried home.
As we walked in the door, Murphy opened her eyes and stared at me. The ancient, loving soul I had known for so many lifetimes, in three different bodies since I was a child in this lifetime, was there looking back at me.
"I see you, beloved," I said to her. "I love you."
A few minutes later Murphy's spleen bled, swelling her belly tight and turning her gums white as she gently panted. The end was upon us.
I picked her up and held her close, weeping.
I called Debrae, who reported that the dragons had indeed come for Murphy. The king had left our side and was circling the building, creating space for Murphy to die.
The eagle was correct: the dragons had come for Murphy.
I decided to help them. After fighting for so many years to give Murphy the best life possible, I now realized that helping her out of it was the best, kindest, most loving thing I could do. Within the hour a good friend was there, and she took us to the vet, who agreed with me. It was time.
I made sure I was the last thing Murphy saw, that even though she was deaf, my voice and heart telling her I loved her was the last thing she heard.
It didn't matter. She already knew that. She passed instantly, peacefully.
That night, I sat with my crystals, the sturdy columbite I use for clearing and grounding, and my crystal partner, Fallon. I sank deep into the columbite and felt my body release the shock of Murphy's passing as the columbite settled like a warm blanket around me. I was at peace, quiet, resting.
Then I held Fallon close, my healing partner. I rested, breathing deeply. I slowly felt the pain not so much ease as move aside as my heart gently expanded. With each breath it grew and a warm softness moved in. With awe and gratitude I understood that Murphy was there, settling gently in my heart, filling it with a breadth and depth it did not have before.
My beloved had come home to me, nestling in my heart. She's safe now, and so am I: the essence of her is never farther away than my next breath.
In the course of my work much of my life with Murphy and my animal family is a public record. At one point, several years ago, when I'd been told that Murphy's life was ending, I'd held a party to celebrate her and our life together. It was wonderful. And it kept her here for almost 2-1/2 more years.
Her funeral was a different thing entirely.
I madly cleaned house the morning after she died, as much to clear my head as the house itself.
And that afternoon Alki and Grace the Cat and I celebrated Murphy's life. We held her funeral in our house, where we had all lived together. Just us.
Well, that's how it started.
I did a space cooperating session, thoroughly clearing our home's vibrations, and ours. I sent copal through the house, and opened all the windows and doors to send it into the neighborhood. I used incense and smudge sticks and a bubbling fountain and sea salt and lit every light in the house.
I brought Fallon and the crystals into the mix, appreciating their voices raised in song.
And then I turned on Mickey Hart and Planet Drum, loud enough to be heard a block away.
I pounded my thighs as drums. I bounced. I danced. And as I whirled into the center of the room, Murphy came back to dance with me.
"This is fun," she yelled, laughing, as once again, one last time, my beautiful soul mate danced with me.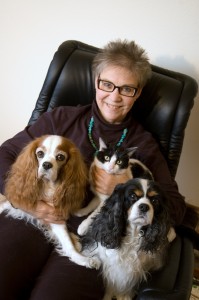 With Alki and with Grace the Cat.
And then the others arrived, and we danced with them.
With our home and crystals. With Mount St. Helens and Yellowstone. With that rock-and-rolling goddess of love and fertility who works with us.
And with those raucous dragons. Together, all the beings we loved and worked with came to Murphy's funeral to celebrate her amazing life.
I know that the community of all life is real, that everything is alive. That day, the community of life joined us to honor Murphy.
Now, I knew the dragons had prepared a reception to honor their departing ambassador. I knew the dragons had two new ambassadors in place: yes, it took two to replace Murphy, a rebel and a goofbucket, Robyn and Alki. We have no idea what we're doing, but we'll do it.
And I knew the dragons had honored my request, and Murphy's, to speed her on her way. Murphy did not go into that gray zone that the dying seem to go to. The instant she died the king of the dragons himself whisked her into his arms and straight to my father's, who runs what I call The Way Station for Dead Things on the Other Side. That, too, is another story. When I next talked to Murphy, a few hours after she died, she was safe with him, thanking me for everything I'd done, proclaiming it all "Perfect."
So at Murphy's funeral we laughed, and cried, and danced.
Murphy is safe now. She's off on new journeys when she's not visiting. And we move on. Her body is gone, but her great loving heart is deep inside mine.
It has opened a bottomless well of compassion in me that has already enriched my life and helped my clients.
It has helped me remember.
It reminds me, in the moments when breathing is hard, that Murphy will be there in the next breath, when, of course, she isn't off doing whatever ambassadors to the dragons do when they're out of their bodies and planning their next act.
Like creating giant dust clouds on Mars.
Laughing. Working. Loving.
Dancing.
My beloved Murphy.
© 2012 Robyn M Fritz